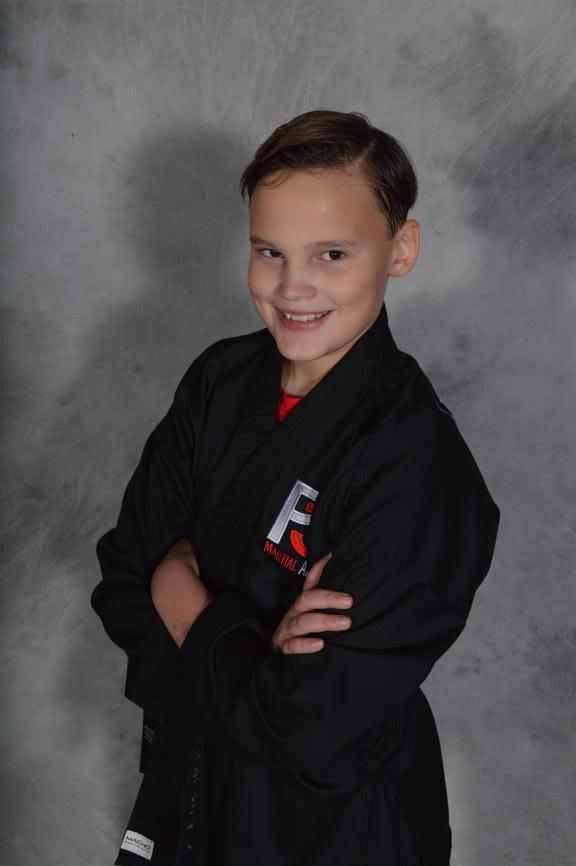 Skyler Fetty
Hello, my name is Skyler Fetty, and I'm proud to be a teen instructor at P3 Martial Arts. I'm 13 years old and have trained exclusively with Master Scott Bailey for 9 years. My parents introduced me to Martial Arts to give me an outlet for all my energy and to help me focus. Master Baily has helped me with that and so much more. He is an awesome Instructor, mentor, and someone I have always been able to count on. Four years ago, several of his students, their family's including mine, helped Master Bailey tear out walls, build, paint, and move into our academy. That's how P3 began. It has been amazing to see and be a part of how much we've grown.
I'm currently a second-degree Black Belt. As a member of the Competition Team I have successfully competed in more than 30 World and National Tournaments. My favorite is preforming in front of a crowd and demonstrating my skills with the Double Nun Chucks. I have competed in most all the team sports, but my passion is now 100% Martial Arts. I really enjoy being part of the Demonstration Team that has performed at many local schools, town events, and even at half time for the Harlem Globetrotters in front of more than 15,000 people. As a member of our PRO-X Hyper Team I have learned so many tricks like a Front Tuck that I never thought I could.
As a Teen Instructor I really like to pass the skills I've learned on to our younger students, and I especially love working with the Little Leaders. They are so excited and eager to learn the Martial Arts.
I have made so many friends that I'm sure will last my life time. I wish everyone could experience our P3 (Perseverance-Performance-Perfection) family and I'm sure they would all agree we are the BEST!
Leadership – Strength – Commitment – Knowledge - Respect