Perfect For Any Age Or Experience Level, Our Kids Martial Arts Classes Can Help Your Child Build Vital Life Skills In No Time!
Take on the most exciting Kids Martial Arts Classes in Knoxville today! Our team at P3 Martial Arts is proud to work with students of all ages and abilities, helping them build balance, coordination and life skills for any situation.
Choose from our 3 age-specific programs or take advantage of our cutting-edge Hyper Pro Training classes!
Lil' Leaders (Ages 3-6): The best way for your little one to gain confidence in themselves and make a great group of new friends. We focus on the basics of movement while introducing them to 8 foundational skills that will serve them for years to come.
Junior Leadership (Ages 6-10): Give your child an exciting way to stay active while also instilling in them a sense of discipline and focus. Our Junior Leadership program teaches students respect, confidence, and of course leadership in everything they do.
Teen Fusion (Ages 11-14): These high-energy classes help your child find a true sense of purpose in their social and emotional lives. We build students up through a series of accomplishments and support them each and every day!
Students ages 15 and up are invited to join our Adult Martial Arts program. Check it out today!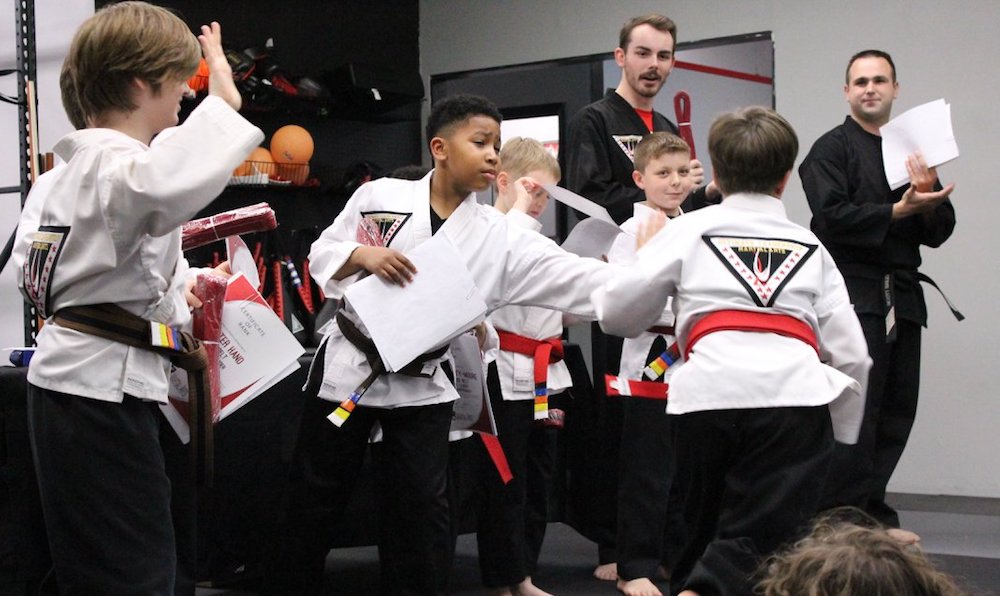 Kids Martial Arts Training Is The Best Way For Students In Nashville To Stay Active And Engaged
We all know how easy it is for our children to fall into habits of inactivity. We're here to fix that.
Our Kids Martial Arts program teaches students to be excited about physical activity and offers a sense of pride in their accomplishments that other sports and hobbies simply can't.
Your child will build:
Strength, speed, and coordination
Dexterity and balance
Healthy fat burn
And cardiovascular endurance
PLUS, Our Kids Martial Arts Classes Set Your Child Up For Success No Matter What Path They Take
When your child joins us at P3 Martial Arts, we don't expect them to take on a life of martial arts training and professional competition. But we can offer them the tools they need to succeed in any career or life path they choose.
Whether they go on to be a teacher, a lawyer, a police officer, or something else, they'll rely on the foundation they build in our Kids Martial Arts classes for years to come.
Give your child tools like:
Communication and conflict resolution
Perseverance and commitment
Unwavering self-confidence and pride
Take The First Step Today! Learn More About The Best Kids Martial Arts Classes In Knoxville!
Are you ready for your child to take on an exciting new hobby? Then join us at P3 Martial Arts in Knoxville and watch them grow before your very eyes.
Just fill out the short form on your screen now to learn more about our Kids Martial Arts program. We'll be happy to answer all of your questions right away!